Knowledge7 organised the first of its series of free technology meetups, Driving business forward with Social Networks, Mobile & Cloud technologies, on Friday 18 January 2013. This event took place at Burrenchobay Hall at the University of Mauritius with an audience consisting of marketing executives, IT professionals, lecturers and students.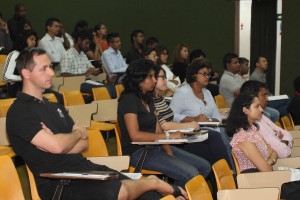 With the widespread adoption of social networks and mobile & cloud technologies by users, it is crucial to review conventional business operations and long-term strategies. During this seminar, the Knowledge7 speakers attempted to show ways these technologies can drive innovation and grow business.
Driving your business forward using Mobile and Cloud Technologies
Avinash Meetoo, Founder of Knowledge7, explained how to integrate mobile and cloud technologies into day-to-day business activities to save time. Smartphones and tablets allow businesses to deliver their services anytime anywhere, quickly and efficiently. He also showed ways for businesses to shift towards cloud technologies whether Software, Platform or Infrastructure as a Service (SaaS/PaaS/IaaS).
Driving your business forward using Enterprise Applications Development
Jean-Marc Desvaux, Head of Information Systems at General Construction, explained how choosing the correct Enterprise Application Framework can make a business more resilient to a changing environment. Issues such as the technology to be used, the kind of skills needed, and long-term strategic issues were addressed. Jean-Marc explained how Oracle ADF is used at General Construction to build mission-critical software solutions.
Driving your business forward using Social Networks and Digital Marketing
Darshana Seetah, Trainer and Developer at Knowledge7, explained the emerging role of the Digital Marketer. Given that a growing number of Mauritians use social networks, she explained how businesses can leverage this opportunity for better communication, branding, marketing and sales. The multiple roles of a digital marketer were enumerated: from content creation to social media engagement, from search engine optimisation to the use of analytics to maximise return on investment. The shift from conventional to digital marketing was seen as crucial to today's business.
To help marketing and IT departments achieve their objectives, Knowledge7 is launching two new courses in February:
Search Engine Optimisation (SEO) will help businesses increase traffic to their websites by improving their rankings on popular search engines.
Facebook Application Development will help businesses create interactive and immersive Facebook applications to better engage with customers. Participants should know the PHP programming language.
Both courses are MQA-approved. Many other courses in Digital Marketing, Linux Administration, Mobile Development, Web Development and Communication are also on offer in 2013. Call Knowledge7 on +230 5834-9001 for more information and to book your seats.