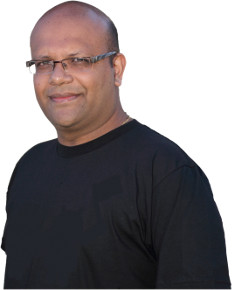 "Hi! I am Avinash Meetoo, Owner of Knowledge7. Call me on
5834-9001
or email
and I'll do my best to help you achieve your objectives."
Avinash Meetoo is the Director of Knowledge7 and has more than 20 years of experience in the Technology, Innovation, Education and Entrepreneurship sectors. From 2021 to 2023, he was the Head of Experimentation of the Accelerator Lab of UNDP Mauritius and Seychelles. He also was the UNDP Digital Advocate for the two countries. Prior to joining UNDP, from 2017 to 2021, Avinash was the Senior Adviser at the Ministry of Information Technology, Communication and Innovation of Mauritius. During these four years, he was a Board Member of the National Computer Board and a Member of the Board of Governors of the University of Technology of Mauritius. He has worked as a lecturer in Computer Science at the University of Mauritius, the Mauritius Chamber of Commerce & Industry Business School and SupInfo University. He has also worked at DCDM Consulting. He is a Red Hat Linux Certified Engineer and a TEDx speaker. He founded the Linux User Group of Mauritius in 2000. He has an MPhil. in Computer Science (Diplôme d'Études Approfondies) from the École Normale Supérieure (Lyon, France) and a Master's Degree in Computer Science (Diplôme d'Ingénieur) from the Institut National des Sciences Appliquées (Lyon, France).
[Blog] [Facebook] [Facebook Page] [LinkedIn] [Twitter] [Mastodon]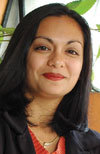 Christina Meetoo is a Senior Lecturer at the University of Mauritius with substantial experience in higher education teaching and researching communication and media as well as delivering on practical consultancy projects. She has a 'Diplôme d'Études Universitaires Générales en Lettres Modernes' (French Language and Literature), a 'Licence' and 'Maîtrise en Information et Communication' (Media and Communication). She is the Chairperson of Knowledge7.