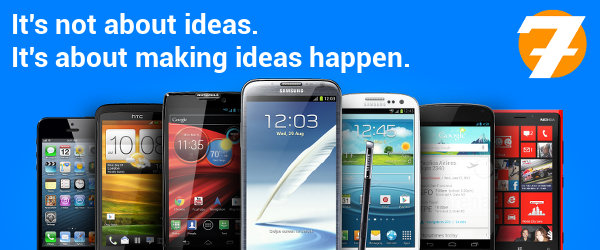 Mobile devices are changing the way we communicate, the way we learn and the way we do business and marketing.
Take your business to the next level
Leverage the use of mobile applications to build a productive workforce which can work from anywhere, anytime. A workforce which can get access to real time data for better informed decisions. You can also cut down costs by empowering your staff to deliver more effectively.
Your customers are going mobile. Are you?
Harness the power of smartphones and tablets to reach out to your customers in innovative ways. Showcase your products and services to an audience of millions of users.
Join the mobile revolution now!
Knowledge7 has a team of experienced and talented developers capable of creating high quality mobile and tablet applications for both Android and iPhone/iPad.
You have a great idea for a mobile app? We can help you bring it to life. The sky is the limit!
Some of our clients:
Our portfolio
(Click here for a list of apps we have published on the Google PlayStore and here for a list of apps we have published in the App Store)