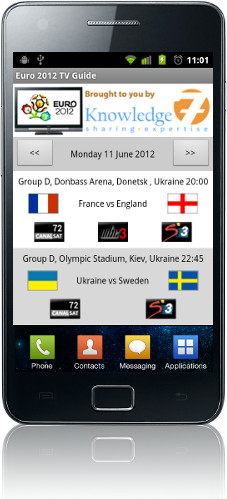 We are proud to announce the launching of our Euro 2012 TV Guide Android application available for free in the Google Play Store.
Euro 2012 is starting in a few days in Ukraine and Poland. Use this application to know on which TV channels each match is being shown. Choose among the following countries:
Mauritius
France
United Kingdom
United States
You can browse day by day. Click on the flag of a country will open a browser with the latest information on each team participating in the World Cup (courtesy of Wikipedia.)
Changelog
Name    Date            Comment
======= =============== ====================
1.0     2012-06-06      First release
1.1     2012-06-08      Fixed some colours
                        and the Portugal flag
1.2     2012-06-15      Fixed some errors
                        concerning matches
1.3     2012-06-20      Added quarter finals
1.4     2012-06-25      Semi finals updates
Download Euro 2012 TV Guide and have fun!