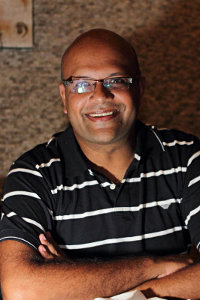 This week, we start a new feature on the Knowledge7 blog inspired by The Setup. We'll try to have people describing their computer setup and how they can be productive with it on a regular basis. Let's start with my own setup:
Who are you, and what do you do?
I am the Founder and Managing-Director of Knowledge7, provider of quality consultancy and training services for open source software such as Linux, PHP/MySQL, Java and HTML5/Android. Previously, I was a lecturer in Computer Science at tertiary level and a consultant in one of the major consulting firms of the island. I studied in France and I have a Masters degree (Diplôme d'Ingénieur) and an MPhil (DEA) in Computer Science.
I am a well-known blogger and I participate extensively on social networks such as Twitter, LinkedIn, Google+ and Facebook as well as in workshops and conferences on topics such as the Internet, social networks, mobile and cloud technologies. I am regularly interviewed in the local press on these technology topics.
I am married to Christina and we have two children: Anya and Kyan.
What hardware do you use?
My work computer is an inexpensive Dell Inspiron 15″ with 4Gb of RAM. At home, I use an iMac with 8Gb of RAM.
I also use an Amazon Kindle for reading ebooks, a Google Nexus 7 tablet and a Google Nexus One smartphone (which I intend to replace very shortly with a Nexus 4). I am a big fan of Android because, well, I am a geek.
And what software?
My work laptop runs Fedora Linux 17. I spend a lot of my time in Google Chrome, Eclipse (for Android development) as well as the command line (for vi, git, etc). I use LibreOffice a lot as well as Gimp for all my graphical processing and Scribus for desktop publishing. I really believe that open source software is as good, if not better, than proprietary alternatives.
My iMac still runs Snow Leopard (because I am a bit pissed off with Apple and don't want to install Lion just for the sake of it). I use the iMac mainly for browsing (Chrome), photo (Canon DPP) and video editing (iMovie which suits me perfectly), composing music (Logic Express which I love and have been using for ages now…) and flight simming (X-Plane 9 which is bloody gorgeous on the iMac).
My Android devices all run CyanogenMod nightlies (because I love living dangerously — nah, that's not true: the nightlies are very stable and I love being able to have a new operating system mostly every night)
What would be your dream setup?
I would love to have a laptop with a much better resolution (mine runs at 1366 x 768). The size of the screen is perfect but the resolution is crap. I would prefer something like 1600 x 1200 but it seems laptop manufacturers are too lazy now…
And, naturally, I'm hoping Father Xmas will give me a Google Nexus 4 at the end of the year 🙂