What is WordPress?

Why do I need WordPress?
Wordpress is a powerful content management system (CMS) which we use for all our websites: our company website and the other websites of our network. It works great, is easy to setup and maintain. I believe WordPress is the CMS to choose when creating a website.
The Web has brought a revolution in the way people get information and acquire products and services. With more and more marketing and sales being done online, it is important that businesses have websites which are attractive to visitors while being easy to maintain by employees.
There was a time when in order to create a website you needed a professional web developer who was proficient with web technologies such as HTML, CSS, PHP and Javascript among others. This is no longer the case thanks to powerful Content Management Systems (CMS) such as WordPress, Drupal and Joomla which take care of most of the heavy work for you. As a result, someone with some basic knowledge of HTML and CSS can easily create a fully-functional dynamic website. Nowadays, most organisations' websites are build using a CMS.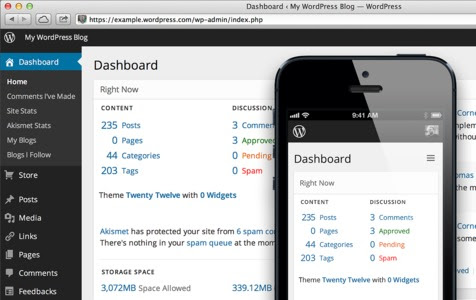 WordPress is a powerful, yet easy to use, free and open-source CMS. It was used by more than 22.0% of the top 10 million websites as of August 2013. WordPress powers websites such as SonyMusic, the eBay blog, Wall Street Journal and New York Times blogs among others.

About this course
This course has been designed for people who manage websites or would like to launch a new website in the future. During the course, participants will create a complete website using the WordPress Content Management System (CMS).
The course will also cover aspects such as acquiring a domain name and hosting.
This 12-hour training will run from 09:00-16:00 in our premises in Quatre-Bornes. The MQA-registered trainers are Avinash Meetoo, Darshana Seetah, Noorani Bakerally and Christina Meetoo.
Prerequisites
Participants should be computer and Internet literate and have a basic knowledge of markup languages (HTML and CSS).
In case you don't have any knowledge of HTML and CSS, here are a few good tutorials which will help you level-up.
HTML
CSS
Topics
Overview of Internet and websites
Getting started with WordPress
Theming and design
Writing pages and posts
Information architecture, copywriting and SEO
Using widgets, menus and plugins
Community management and moderation
Using an advertising platform
Price
The course costs Rs 9,900 per participant. All fees are payable upon booking of seats. This is our
policy in case of cancellation
. Eligible companies can get refunds from the
HRDC
. Become a
Knowledge7 Associate
, refer people to our training courses and earn 10% of what we receive as training fee.
Book a seat
To book a seat for this course, please download our booking form, fill it in and send it to us by email () or fax (5834-9001).