Services we offer

We help you increase brand awareness and traffic to generate qualified leads
We help you to use digital marketing to increase sales and deepen engagement with customers
We create websites integrated with social media tools
We manage marketing campaigns on Facebook and other social networks
We monitor social media events and provide analytics and customer insight reports
We develop Facebook apps for games, contests, polls, surveys.
We develop multiplatform and native Android mobile apps
Description
We advise. We strategise. We create interactive content.Consumers are changing. They now use social networks like Facebook to participate, collaborate and share views before making purchase decisions. One out of four Mauritians are on Facebook and this number is growing exponentially. Consequently, the way companies engage with their customers has to evolve. Branding, campaigning and selling are now, more and more, delivered through social media.
We can help your company use social media as part of its business strategy to network with more customers. We reach out to your target segment and get your business noticed by engaging customers in meaningful conversations, retaining them and maximising word of mouth for viral marketing.
We combine our deep understanding of social media and marketing to deliver creative and interactive online experiences. We monitor and make sure your company is part of the Internet community in order to maximise your ROI.
We take a holistic and innovative approach to help you grow your business.
Portfolio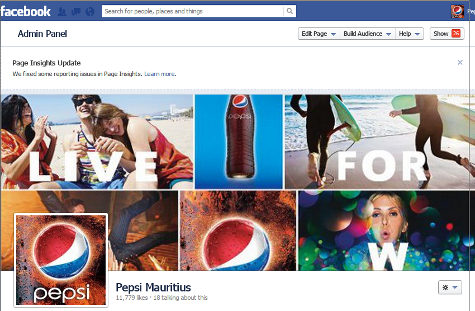 Pepsi Mauritius on Facebook: we manage the Facebook page and develop Facebook apps like games to increase engagement and promote the product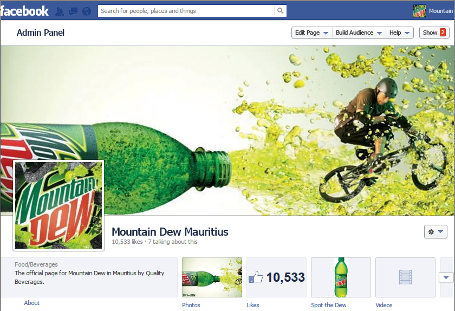 Mountain Dew Mauritius on Facebook: we manage the Facebook page, develop Facebook games as well as do our best to increase brand recognition
Testimonials
Learn more
Get Free Information
Corporate clients: We can arrange for dedicated sessions for your batch of employees. For your specific needs, please call us on 403-4456 or email us at info@knowledge7.com.
Individual clients: Leave your contact details and we will let you know when the course is scheduled.